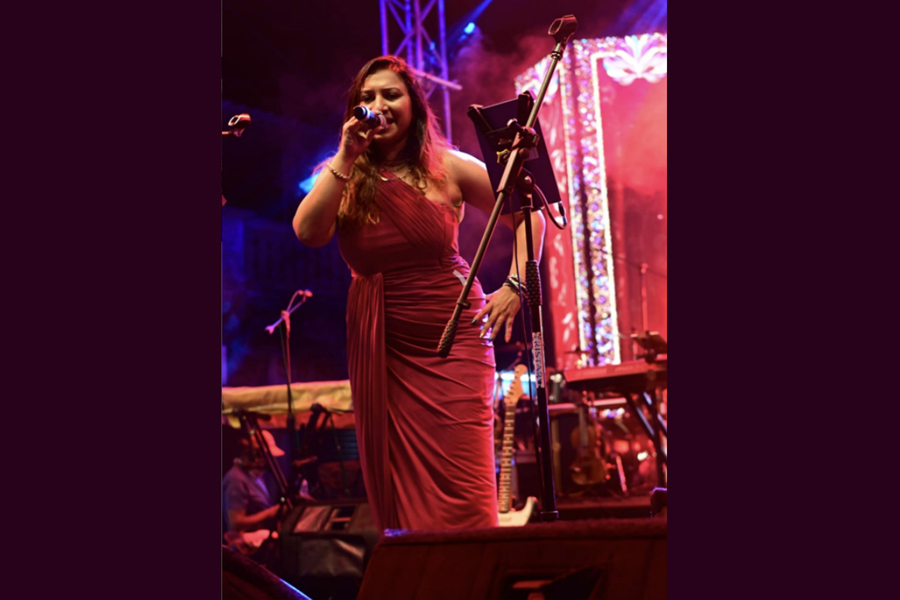 Read Time:
4 Minute, 39 Second
Music heals the soul and singers communicate a story through their songs and often possess exponential talent. Artist Sherise Dsouza is one such dynamic vocalist and singer-songwriter from India. She performs songs in various genres such as Funk, Pop, Country, Blues, Rock n Roll, Reggae, Pop, Western Classical, Jazz, Hindustani, as well as her own compositions and is known for her vocal prowess and ability to make each song her own, no matter the genre. She has garnered nominations for multiple international awards as well, and we are glad to have the pleasure of talking to her as he shares insights of her inspiring journey in music, her latest single 'Baby Girl' and her life as an artist.
How did your journey in music begin?
I jump-started my musical journey at the age of 8 years old by singing in Church choirs and learning music from my parents who are also musicians.
What are you 4 important traits you feel are needed to become successful as a singer and performer?
Be positive

Never give up

Be an inspiration to others

Learn from mistakes
Tell us about your new single and your inspiration on writing this song.
My latest single, 'Baby Girl' is about a child's journey of self-discovery, finding and re-connecting with one's inner child at different stages in life. With this song, I hope to inspire others to discover their strengths and talents and know that they are not alone in their struggles, because my music is with them. This song is also about women empowerment, as I was inspired by tough times that women go through and wrote this song to help women discover themselves, have faith in their abilities and shine their light.!
Your music has been featured globally across many Radio Stations. Do you see a difference in the way your music is appreciated abroad and if so, what are those?
My music is well appreciated in both Indian as well as many radio stations across the Globe in the US, UK, New Zealand, Turkey, etc. Globally, I am happy to say that my work has been getting a good response and audiences are able to identify with the sentiments of my songs. This resulted in many opportunities to collaborate with popular and major artists, abroad as there they are very interested in my voice and music. This has garnered a lot of listeners across the world and radio stations get repeat requests to play my tracks. This makes the radio stations want to feature me and have podcasts and interviews with me. In India, the market has to still open up for showcasing independent talent in music and helping Indie Artists rise up. Many more big showcase shows are needed and there needs to be more acceptance of hard work put into making new music, and less focus on politics and top-level favoritism.
What are the challenges you've faced as a female artist in the music industry?
There are many challenges; A few of them are getting my music heard and sent to the right sources.
The pressure to perform and make my mark in genres like rock; I also was instrumental in forming  one of Mumbai's top all-girl bands 'Sugar n Spice'. All musicians and performers face similar challenges; and being my own manager, I have learned a lot by working end-to-end from problem to resolution as well as dealing with behavior types and responding to situations on-the-go. This has made me sharpen my analytical skills and become better at thinking on my feet.
Mention 3 things that you would like to change in the way Artist Development is shaped in India.
Promoters can be more inclusive and pay more attention to "check out my music" and "give me an opportunity to showcase my music at your venue" emails.
I have friends who are promoters who are passionate about independent music and create blogs. It would help if audiences visited and watch more videos and music developed by independent artists along with the big players in the market. Listening to one song or playing one video, can make a huge difference in an artist's life.
Artist Managers and artist development teams should organize and build more festivals to support the little-known independent artists who are actually investing their time, money energy and emotions to make relevant music but don't get a chance to showcase it. These initiatives are widely prevalent in the West, which is partly the reason why my music is getting more coverage in other countries
A motivational quote on hustle
Be the change that you want to create in the world.
Please share details on your upcoming Upcoming Projects?
I have just released a major collaboration with worldwide famous metal bands such as Viking Queen, The Mighty One, Jørg Klein, Kai Somby, Henk de Graaf to release a song that supports the war-affected people of Ukraine, called 'We are United' Galaxy Radio, New Zealand.
My upcoming release is called 'Baby girl' and it is a pop-funk track set to be released on May 1 on all streaming platforms. It features Live Funk Slap Bass by World-Renowned multi-instrumentalist and Platinum Record Selling producer, Shaun LaBelle, who is also my great friend and came to Mumbai, India to perform with me in 2018.
There are many more future projects in process. I am also going to be launching my book of poetry, soon, titled 'Directions, Dimensions, Dexterity'. Will share their details as soon as they are finalized.